The weather is getting nicer, and that means BBQ season is officially here! But if you're like most people, you don't know how to grill a healthy Paleo meal. You want to be able to throw some good food on the grill this summer, but you don't want to spend all day in the kitchen. You also don't want to eat unhealthy grilled foods.
Luckily, this 'Healthy Paleo Grill Recipes for the Summer' will show you how to make delicious and healthy grilled meals in no time. With over 14 recipes for chicken, beef, seafood, and vegetables, there's something for everyone.
Without wasting any more of your time, let's see these delicious and healthy paleo grill recipes for this summer!
1. Lamb Shish Kebab
Lamb Shish Kebab is a dish made of cubes of lamb meat that have been marinated in olive oil, lemon juice, and spices like cumin and paprika. The meat is then threaded onto skewers (kebabs) and grilled.
It is often served with rice or flatbread, as well as a salad or some other type of vegetable dish. Lamb Shish Kebab is a popular dish in many countries around the world, including Turkey, Greece, and Iran.
It can be made with either leg or shoulder meat, and the flavorings used vary by region. In Turkey, for example, parsley, mint, and onion are commonly added to the marinade. The kebabs can be cooked over charcoal or on a gas grill.
2. Grilled Salmon with Cauliflower Rice
Grilled salmon is a healthy and delicious way to get your protein fixed. Combine it with some cauliflower rice for a complete, low-carb meal. Salmon is a great source of omega-3 fatty acids, which are beneficial for maintaining heart health and preventing chronic diseases.
Cauliflower rice is a fantastic substitute for regular rice, as it is low in carbs and calories but still provides the same texture and flavor. This simple dish is easy to prepare and can be customized to your liking. Add some spices or sauce to give it an extra kick.
3. Steak Kabobs with Dijon Green Beans
With the weather warming up, we can't think of anything better than grilling some steak kabobs. We love the combination of steak and veggies on a stick. Plus, it's so easy to make – just thread your favorite ingredients onto skewers and grill them up!
For our kabobs this time, we decided to go with dijon green beans. We love the flavor of Dijon mustard, and it pairs perfectly with green beans. If you're looking for a quick and easy side dish to go with your kabobs, this is it!
4. Moroccan Beef Kebabs
Moroccan beef kebabs are a popular dish in Morocco. They are made with beef and spices and are grilled on skewers. Kebabs are often served with rice or couscous and a sauce or dressing.
There are many different recipes for Moroccan beef kebabs, but they all include spices such as cumin, ginger, and paprika. Some people also add garlic or onion to the mix.
The beef is usually marinated in spices for a few hours before it is cooked.
5. Grilled Salmon with Pineapple Salsa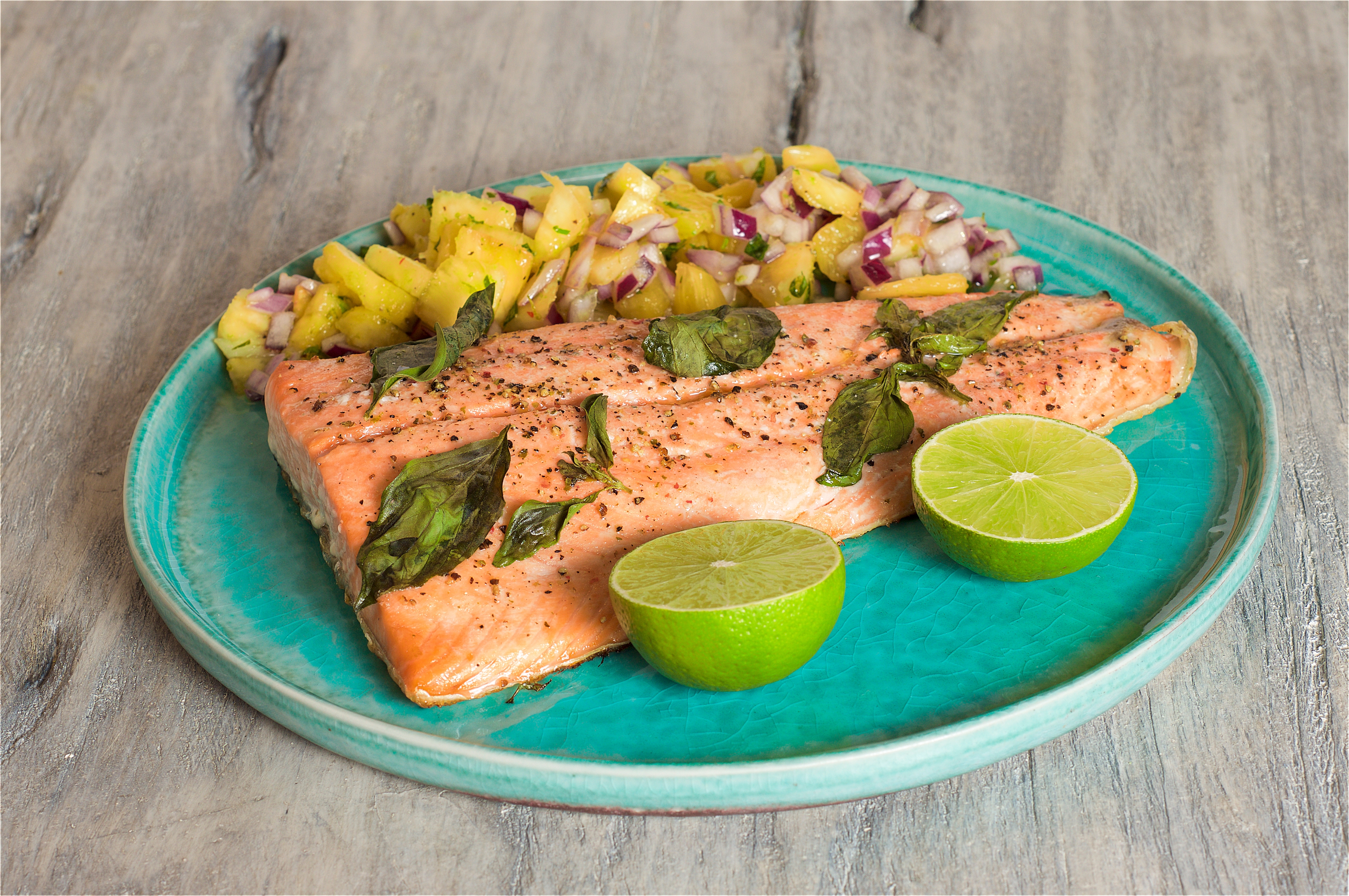 Salmon is a great source of omega-3 fatty acids, which are beneficial to your health. Adding some pineapple salsa to your grilled salmon only enhances the flavor and adds some nutritional value too.
The sweetness of the pineapple pairs well with the smoky flavor of the grilled salmon, and the salsa is a great way to add some crunchy texture as well. You can use any type of salsa you like, but I recommend using a fresh salsa that contains tomatoes, onions, cilantro, and jalapeno peppers.
If you're looking for a healthy and delicious meal that's easy to prepare, then grilled salmon with pineapple salsa is definitely worth trying.
6. AIP Paleo Asian Grilled Chicken
AIP Paleo Asian Grilled Chicken is a dish that uses chicken as its main ingredient. The dish is simple to make and only requires a few ingredients, most of which are likely already in your kitchen.
The chicken is marinated in a delicious Asian-inspired sauce and then grilled until cooked through. This recipe is perfect for a quick and easy weeknight meal.
7. Shish Kebab
Shish kebab is a dish of skewered grilled meat, usually lamb, beef, or chicken. It is a popular dish in Middle Eastern and Balkan countries. The word "kebab" comes from the Persian كَبَاب (kabāb), meaning "fry".
Shish kebabs are made by threading cubes of meat onto skewers. The skewers are then grilled, often over charcoal. Shish kebabs can also be cooked in an oven or on a stove-top griddle. The dish is served with rice, salad, and tzatziki sauce.
8. Zucchini Basil Chicken Burgers
Zucchini Basil Chicken Burgers are a delicious and healthy alternative to traditional burgers. The zucchini and basil give the burgers a fresh, summery flavor, while the chicken provides protein and nutrients.
These burgers are perfect for a summer barbecue or party, and they can be customized to fit your guests' tastes. You can add different toppings, such as cheese, bacon, or avocado, or serve them with a side of salad or vegetables.
Zucchini Basil Chicken Burgers are sure to be a hit with your friends and family!
9. Grilled Pineapple with Coconut Cream
Grilled Pineapple with Coconut Cream is a dessert that is made by grilling pineapple slices and then topping them with coconut cream. The pineapple is grilled until it is slightly charred, which gives it a sweet and smoky flavor.
The coconut cream is thick and creamy, and it pairs well with the sweetness of the pineapple. Grilled Pineapple with Coconut Cream is a quick and easy dessert that can be made in under 30 minutes.
10. Asian Grilled Tri-Tip
Asian Grilled Tri-Tip is a new and unique way to cook tri-tip. It is a blend of East and West flavors that gives this dish an amazing flavor. The tri-tip is marinated in soy sauce, rice vinegar, honey, and garlic before it is grilled.
This creates a delicious and tangy glaze that coats the meat. The tri-tip can be grilled over high heat or low heat, depending on your preference.
11. Grilled Portobello Mushrooms
Grilled portobello mushrooms are a healthy and delicious alternative to traditional burgers. They are made from a large, flat mushroom that has a rich, earthy flavor. Grilling them brings out their natural sweetness and makes them a perfect addition to any summer barbecue.
Portobello mushrooms are a good source of dietary fiber, potassium, and antioxidants. They can be grilled whole or sliced into strips. They are also great in sandwiches or salads.
12. Grilled Veggie Kabobs
Grilled Veggie Kabobs are a fun, easy, and healthy way to enjoy your favorite grilled vegetables.
Simply choose your favorite vegetables, thread them onto skewers (if using wooden skewers, soak in water for 30 minutes before using), and grill over medium-high heat for 6-8 minutes, turning once, until tender.
You can customize your kabobs with any combination of vegetables you like or try one of our favorites: zucchini, bell peppers, onion, and cherry tomatoes. Grilled Veggie Kabobs are a great side dish or appetizer for any summer gathering.
13. Grilled Broccoli
Grilled broccoli is a healthy and delicious side dish that can be made in minutes. Broccoli is loaded with vitamins, minerals, and antioxidants, making it a great choice for a healthy meal.
Grilling the broccoli brings out its natural sweetness and gives it a delicious smoky flavor. You can serve grilled broccoli as a side dish or add it to your favorite salad.
14. Veggie Kabobs with Halloumi
Veggie kabobs are a fun and easy way to get your daily dose of vegetables. You can customize them however you like, but we recommend using some of our favorite combinations, like bell peppers, cherry tomatoes, and halloumi cheese.
Halloumi is a type of cheese that doesn't melt when cooked, making it the perfect choice for kabobs. It has a salty and slightly tangy flavor that pairs well with grilled vegetables.
If you're looking for a quick and healthy summer meal, veggie kabobs are the perfect solution!