The weather is getting nicer, and you want to spend more time outside, but you don't want to spend all night in the kitchen. Who has time for complicated recipes when the sun is shining, and the grill is calling your name?
Don't worry. We've got you covered with our quick and easy summer dinner recipes. These recipes are simple enough that you can still enjoy a relaxing evening outside, but they're delicious enough that your family and friends will be asking for seconds.
From grilled chicken to pasta dishes, we've got a recipe for everyone. With these recipes, you can easily create a fantastic summer meal without spending hours in the kitchen. Plus, all of our recipes are perfect for busy weeknights.
Let's check it out now for the best quick and easy summer dinner recipes here!
1. Air Fryer Cheeseburger
An air fryer cheeseburger is a burger that has been cooked using an air fryer. An air fryer is a device that cooks food by circulating hot air around it. This causes the food to cook quickly and evenly.
Air fryers are popular because they are a healthier way to cook food than traditional methods such as frying. They also use less oil, so they are a better option for people who are trying to eat healthily.
Air fryers can be used to cook all sorts of foods, including burgers. To make an air fryer cheeseburger, you will need ground beef, salt, pepper, cheese, bread crumbs, ketchup, mustard, and an air fryer.
2. Chicken Teriyaki Pineapple Bowls
This easy, 40-minute recipe is perfect for a quick and healthy weeknight dinner!
This dish is also a fun and easy way to change up your usual chicken teriyaki routine. The pineapple bowl is perfect for summer grilling, and it's also a great way to use up any leftover grilled chicken you might have.
To make the bowls, start by hollowing out a pineapple. You can do this with a sharp knife or a pineapple corer. Then, grill the chicken until it's cooked through. Finally, assemble the bowls by putting the chicken, pineapple, and some teriyaki sauce on top of the rice.
3. Greek Salmon
Salmon is a popular fish that is eaten all over the world. There are many different ways to cook salmon, but one of my favorite methods is to bake it in the oven with a Greek marinade.
The marinade consists of olive oil, lemon juice, garlic, salt, and pepper. It gives the salmon a delicious flavor and makes it tender and moist.
We recommend serving baked Greek salmon with steamed broccoli and brown rice. It's a healthy and satisfying meal that's easy to prepare. If you're looking for a new way to cook salmon, I recommend giving this recipe a try.
4. Summer Panzanella
Panzanella is a classic Tuscan dish made of bread and tomatoes. The bread soaks up the tomato juices and becomes a delicious, hearty dish. Summer is the perfect time to make Panzanella because of the abundance of fresh tomatoes.
All in all, this recipe is easy to follow and can be tailored to your liking.
5. Garlicky Shrimp Zucchini Boats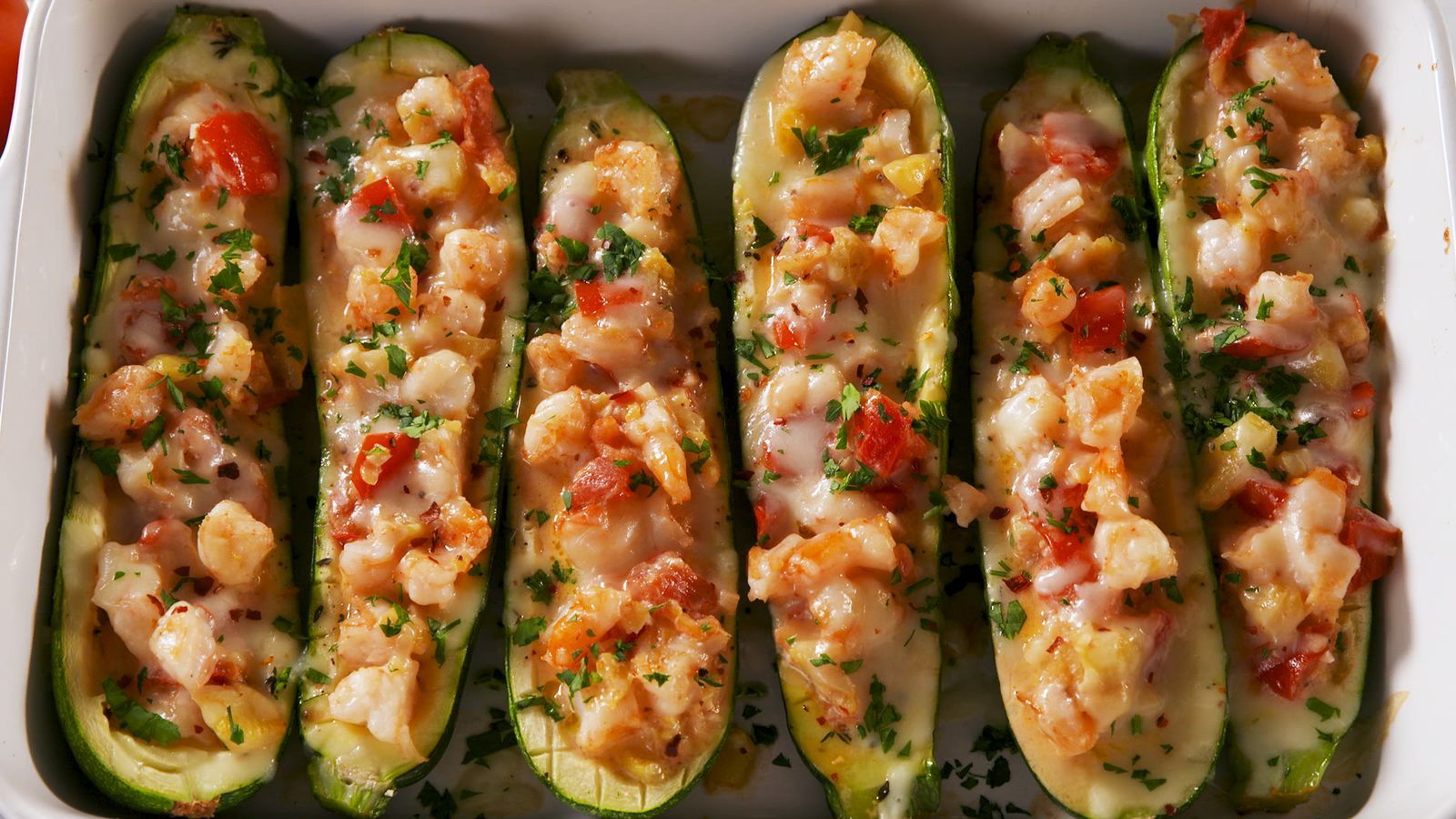 Garlic shrimp and zucchini boats are the perfect easy weeknight meal. With just a few simple ingredients, you can have a delicious and healthy dinner on the table in no time!
The shrimp are cooked in a garlic butter sauce, then stuffed into hollowed-out zucchini boats. The boats are topped with shredded cheese and baked until melted and bubbly.
This is a great dish for using up any leftover zucchini you may have. And if you don't like shrimp, you could easily swap them out for chicken or steak.
6. Shrimp Mango Salad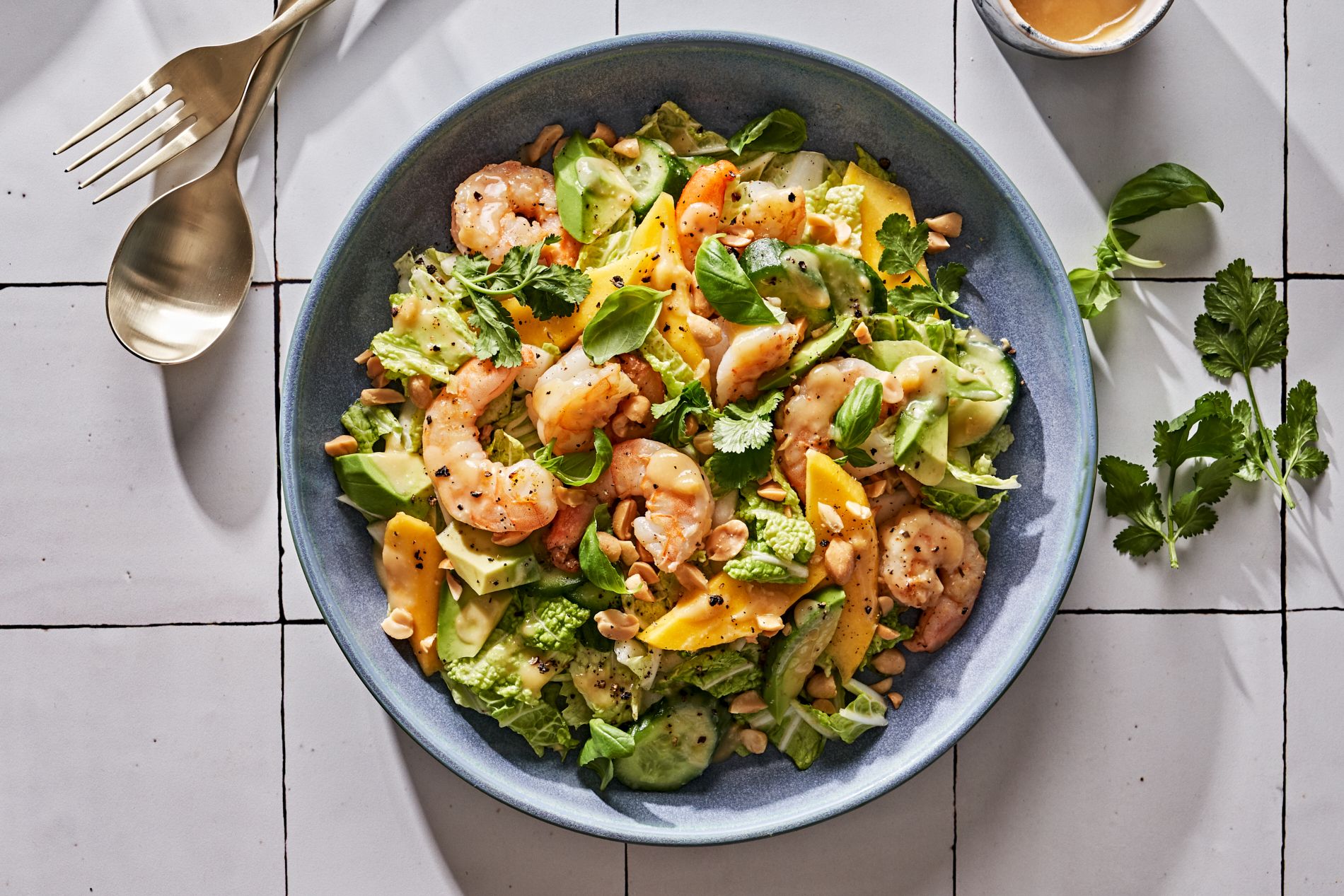 With the weather heating up, salads are a perfect way to cool down and enjoy a light meal. This shrimp mango salad is easy to make and full of flavor.
The shrimp are cooked with cumin, chili powder, and salt, then combined with fresh mango, red onions, and cilantro. The salad is finished with a delicious lime vinaigrette.
7. Falafel Chickpea Vegetarian Stuffed Peppers
A great vegetarian dish for a summer evening is Falafel Chickpea Vegetarian Stuffed Peppers. The recipe is easy to follow and doesn't require any hard-to-find ingredients.
Falafel is a popular dish made from ground chickpeas and spices. It is often formed into balls or patties and deep-fried. Falafel can also be baked. You can find falafel at most Middle Eastern restaurants, and it's also popular street food.
This recipe for falafel stuffed peppers is vegetarian, vegan, and gluten-free. The falafel mixture can also be made into patties or balls if you prefer. Serve with tahini sauce or hummus for a delicious and healthy meal.
8. Surf 'n Turf Foil Packs
Hey there, grill masters! Are you tired of being stuck behind the barbecue at your summer gatherings, missing out on all the fun? Well, we've got a solution for you: Surf 'n Turf Foil Packs!
With just a little bit of prep work (which you can do the day before), you'll have a mouth-watering meal that cooks in just a few minutes on the grill.
And don't worry about cook time, just give them a peek to make sure the shrimp is pink and opaque and the steak is cooked to your liking. Just be careful when you open the packs to avoid the steam!
So, next time you're grilling with friends and family, join in on the fun and enjoy this delicious meal together. And if you give it a try, we want to hear how it turned out!
9. Sweet Corn Shrimp & Rice Skillet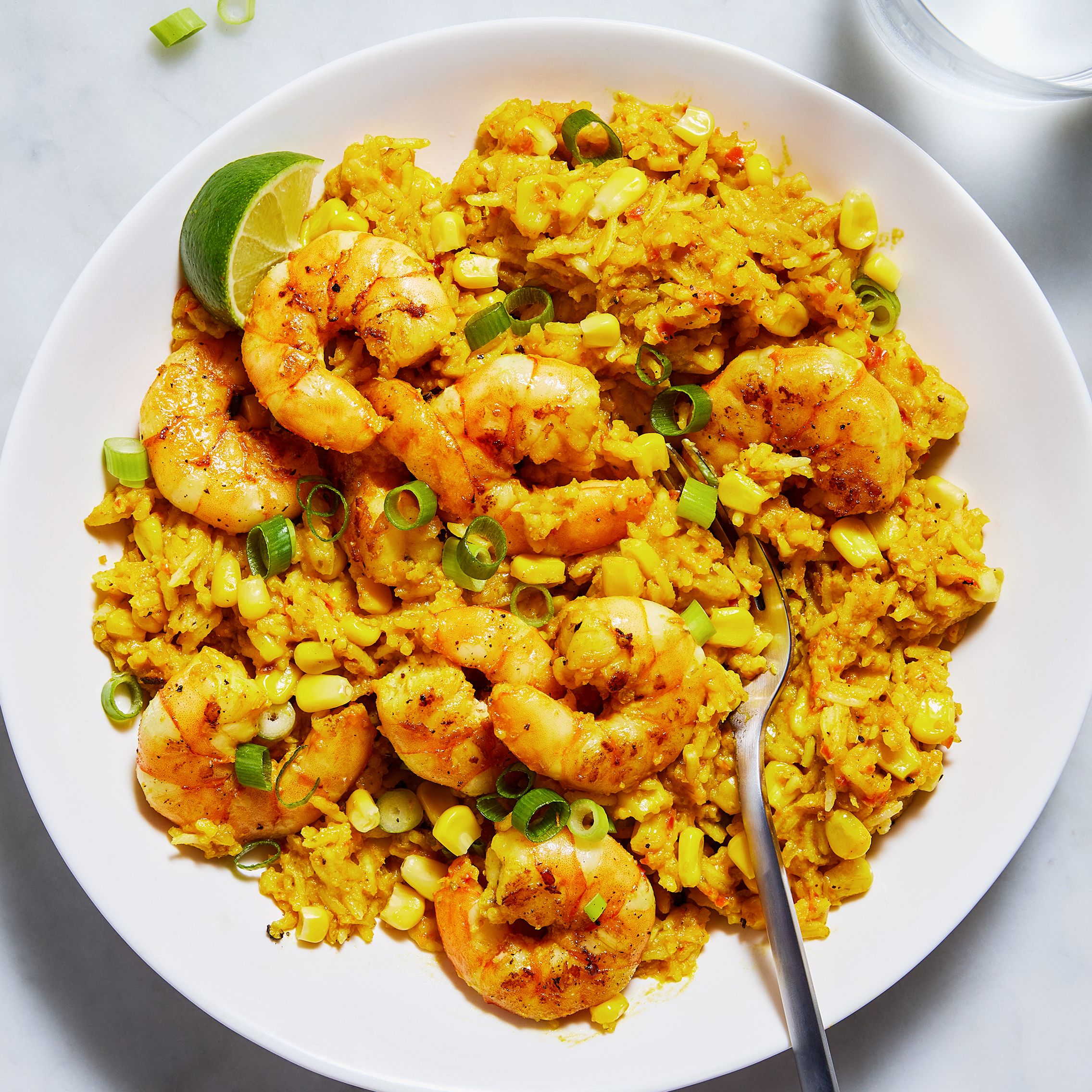 This is an easy and healthy weeknight meal that your whole family will love!
It only takes about 1 hour to make and is packed with flavor. The best part is that it's made with just a few simple ingredients. You will need shrimp, sweet corn, rice, butter, garlic, salt, pepper, and green onions.
10. Baked Pineapple Salmon
Baked salmon is a healthy and easy weeknight meal. This recipe takes just minutes to prepare, and the fish cooks in the oven while you prepare the rest of your dinner. Baked pineapple salmon is a great way to add some sweetness to your seafood dish.
The tart pineapple pairs perfectly with the salty, smoky flavor of the salmon. This recipe is low-carb, Paleo, and Whole30 compliant. You can serve it with a simple side salad or steamed vegetables for a complete meal.
If you're looking for a healthy and delicious seafood dish, give this baked pineapple salmon recipe a try!
11. BBQ Tempeh Sandwiches
Craving a filling and tasty lunch or dinner that won't weigh you down? Look no further than these vegan BBQ Tempeh Sandwiches!
With smoky and savory Tempeh patties nestled between fluffy buns, they're a healthier alternative that's sure to satisfy even meat-eaters.
Plus, they're so easy to whip up, making them the perfect choice for a quick yet delicious meal. And why not share the love with your friends and family at your next backyard BBQ? These sandwiches are sure to be a crowd-pleaser!
12. Tomato Gnocchi Kebabs
Tomato Gnocchi Kebabs are the perfect easy summer meal! They're made with store-bought gnocchi, cherry tomatoes, and fresh mozzarella balls. This recipe is so simple to make, and it's perfect for a summer dinner party.
Just skewer the gnocchi, tomatoes, and mozzarella balls on skewers and grill them until they're cooked through. The kebabs are grilled until they're golden brown and slightly charred, then served with a delicious balsamic reduction.
The balsamic reduction is optional, but it adds a delicious sweetness and tanginess to the kebabs. Tomato Gnocchi Kebabs would be great served with a simple side salad or some roasted vegetables.
13. Chicken Tacos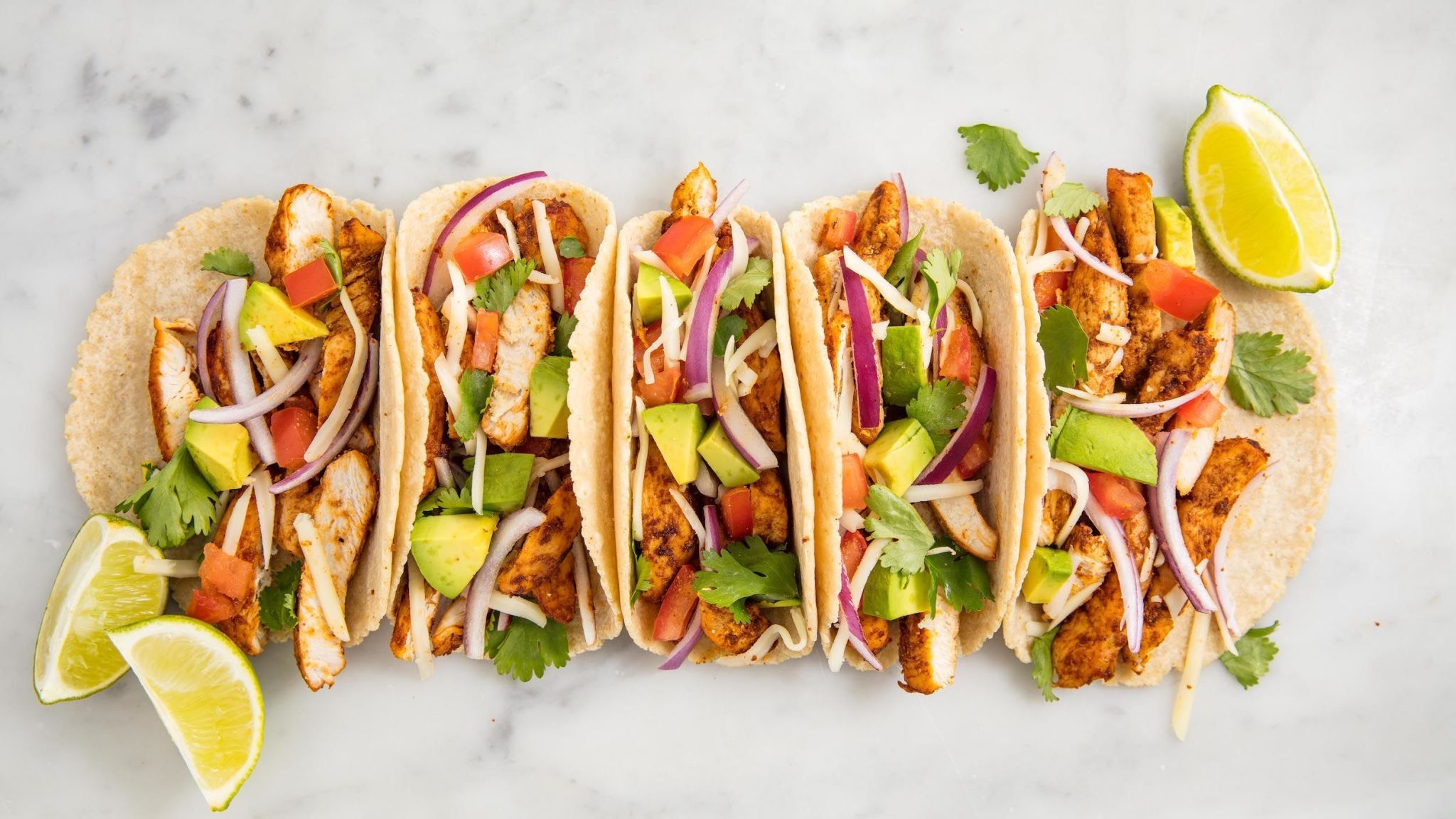 The best chicken tacos are simple: a few well-seasoned chicken breasts warmed corn tortillas, and a variety of toppings to choose from.
Classic toppings include salsa, sour cream, guacamole, and cheese, but you can get creative with your toppings too. Some fun ideas include pico de gallo, black beans and corn, or even pineapple salsa.
The chicken is the star of the show here, so it's important to season it well. You can use your favorite taco seasoning mix or make your own by mixing together chili powder, cumin, garlic powder, and salt.
To cook the chicken breasts, you can either grill them or bake them in the oven.
14. Shortcut BBQ Ribs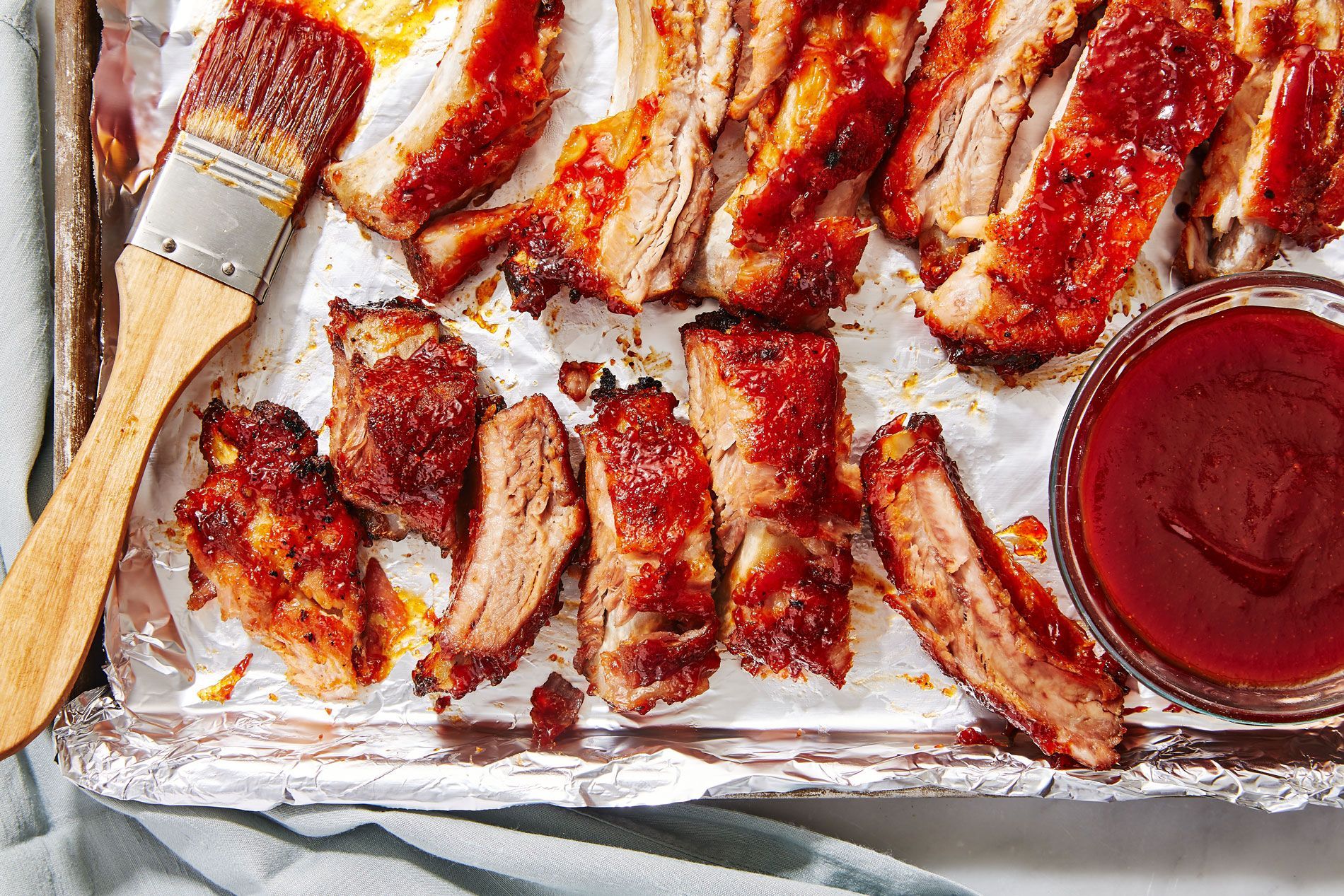 There is nothing like the taste of barbecued ribs. The smokey, charred flavor is a favorite for many people. But who has time to slow-cook ribs for hours on the grill? Not us! That's why we love these shortcut BBQ ribs.
Shortcut BBQ Ribs are the perfect way to enjoy delicious ribs without all the work. This easy recipe takes just minutes to prepare and cook, making it a great option for a quick and easy meal.
The ribs are cooked in the oven and then finished on the grill for a smoky flavor that everyone will love. Serve with your favorite barbecue sauce for a meal that is sure to please.