Planning a party and don't know where to start? Finger foods are the perfect solution! Not only are they easy to make ahead of time, but they also save space on your table for other dishes.
We've got you covered with these delicious recipes that will be sure to please your guests. From dips and spreads to chicken skewers and grilled cheese appetizers, we've got something for everyone.
Check out our list of recipes now and get started on your party planning!
1. Fruit and Cheese Kabobs
A fruit and cheese kabob is a fun and easy way to get your daily dose of fruits and vegetables. The kabobs can be customized to fit any taste or preference. You can use any type of fruit or cheese that you like.
Some people like to use cubed cheese, while others prefer shredded cheese. As for the fruit, you can use anything from pineapple and strawberries to blueberries and raspberries.
If you are looking for a savory option, you can also add meats or vegetables to your kabob.
When it comes to assembling the kabobs, there are many different ways to do it. You can thread the fruit and cheese onto skewers or simply place them on a plate in whatever pattern you like.
No matter how you assemble them, they are sure to be a hit at your next party or gathering.
2. Smoked Salmon Canapes
Smoked salmon canapes are a popular party appetizer. They are easy to make and can be tailored to fit any taste. The most basic smoked salmon canape is a piece of smoked salmon on a cracker. However, there are many variations that can be made.
For example, smoked salmon canapes can be made with cream cheese, capers, and onions. They can also be made into small sandwiches by using bagels or toast instead of crackers.
3. Antipasto Kabobs
Antipasto kabobs are a delicious and easy way to enjoy all your favorite Italian flavors in one handy bite. The key to a great kabob is to start with high-quality ingredients, which is why we always use fresh mozzarella, cherry tomatoes, and Kalamata olives.
We also like to add a variety of meats, such as salami, pepperoni, and chicken, for a bit of protein. To finish it off, we add a drizzle of my homemade vinaigrette.
These kabobs are perfect for a light lunch or as an appetizer at your next party. Trust us. They're sure to be a hit!
4. Crab Salad Appetizers
Crab salad appetizers are a great choice for your next party. They're easy to make and can be tailored to fit any taste. Plus, they're a healthy option that your guests will love.
Crab is a good source of protein and omega-3 fatty acids, which are beneficial for your health.
There are many different ways to make crab salad appetizers. You can use canned crabmeat or fresh crabmeat, depending on your preference. If you're using canned crabmeat, you'll need to drain it before adding it to the salad.
If you're using fresh crabmeat, you'll need to remove the shells and claws before chopping the meat.
5. Bunless Burger Bites
As the name suggests, they are bite-sized hamburgers that are served without buns. While this may seem like a simple change, it can actually make a big difference in terms of nutrition.
Buns add carbohydrates and calories to burgers, and they can also be difficult to digest.
By removing the bun, you end up with a leaner, healthier meal. And because the burgers are bite-sized, they're also easier to eat and less messy.
Whether you're looking for a quick snack or a lighter meal option, Bunless Burger Bites are a great choice.
6. Chicken Satay with Peanut Sauce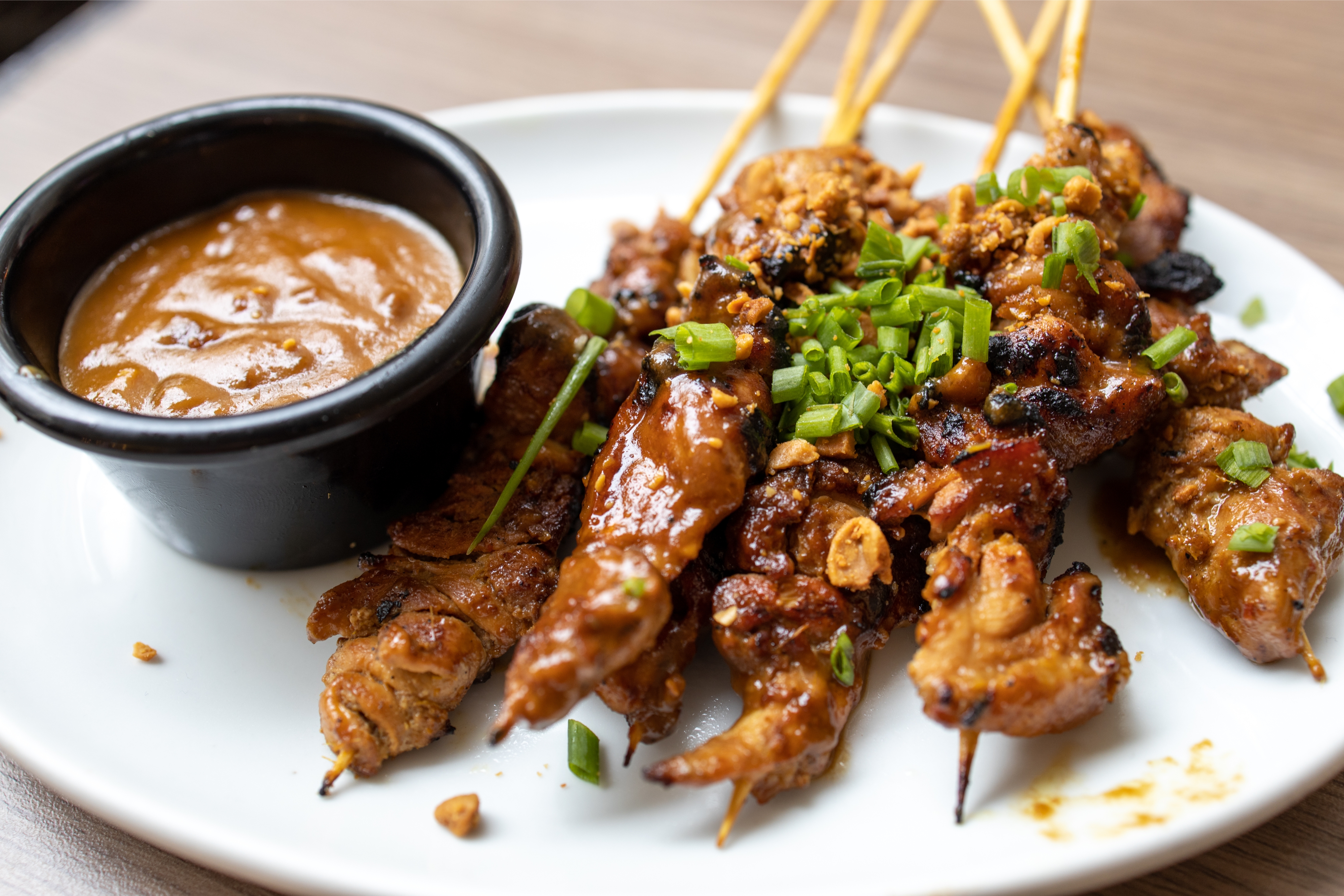 Chicken Satay with Peanut Sauce is a dish that is made up of chicken that has been skewered and then grilled or barbecued. The chicken is then served with peanut sauce.
This dish can be found at many different restaurants, and it is also something that can be made at home. The peanut sauce for this dish is usually made up of ingredients such as peanut butter, soy sauce, ginger, garlic, and brown sugar.
These ingredients are all combined together to create a flavorful and delicious sauce that pairs perfectly with the chicken satay.
7. Simple Chili Con Queso Egg Cup
This dish is a quick and easy breakfast or lunch party option that can be whipped up in minutes. It consists of a simple chili con queso sauce poured over hard-boiled eggs.
The eggs can then be topped with shredded cheese, diced tomatoes, and chopped green onions for extra flavor and crunch. This dish is perfect for those who are looking for a hearty yet quick and easy meal.
8. Rye Bread Party Pizzas
Rye bread party pizzas are a fun and easy way to get everyone involved in the pizza-making process. They are made by layering pieces of rye bread with different toppings and then baking them in the oven.
This type of pizza is a great option for parties because everyone can choose their own toppings.
Some of the best toppings for rye bread party pizzas include pepperoni, sausage, bacon, mushrooms, onions, and green peppers. You can also use different types of cheese, such as mozzarella, cheddar, or Swiss.
The pizzas are best when they are baked until the bread is crispy and the cheese is melted.
If you are looking for a fun and easy party appetizer that everyone will love, then try making some rye bread party pizzas!
9. Cranberry Cream Cheese Pinwheels
Cranberry Cream Cheese Pinwheels are a festive and easy holiday appetizer! They're made with just a few ingredients, including cream cheese, fresh cranberries, green onions, and crescent rolls.
The best part is that you can make them ahead of time and store them in the fridge until you're ready to bake. Simply bake the pinwheels for 10-12 minutes until they're golden brown and flaky. Serve with additional fresh cranberries, and enjoy!
10. Lamb and Polenta Bites
It's a dish made with ground lamb, polenta, and various spices. The ingredients are mixed together, formed into small bites, and then cooked. This dish is often served as an appetizer or main course.
It can be made ahead of time and reheated, making it a great option for busy weeknights or entertaining.
The combination of flavorful lamb and creamy polenta is sure to please everyone at the table. Add a green salad and some crusty bread, and you've got a complete meal that's both easy and delicious.
11. Fig and Goat Cheese Crostini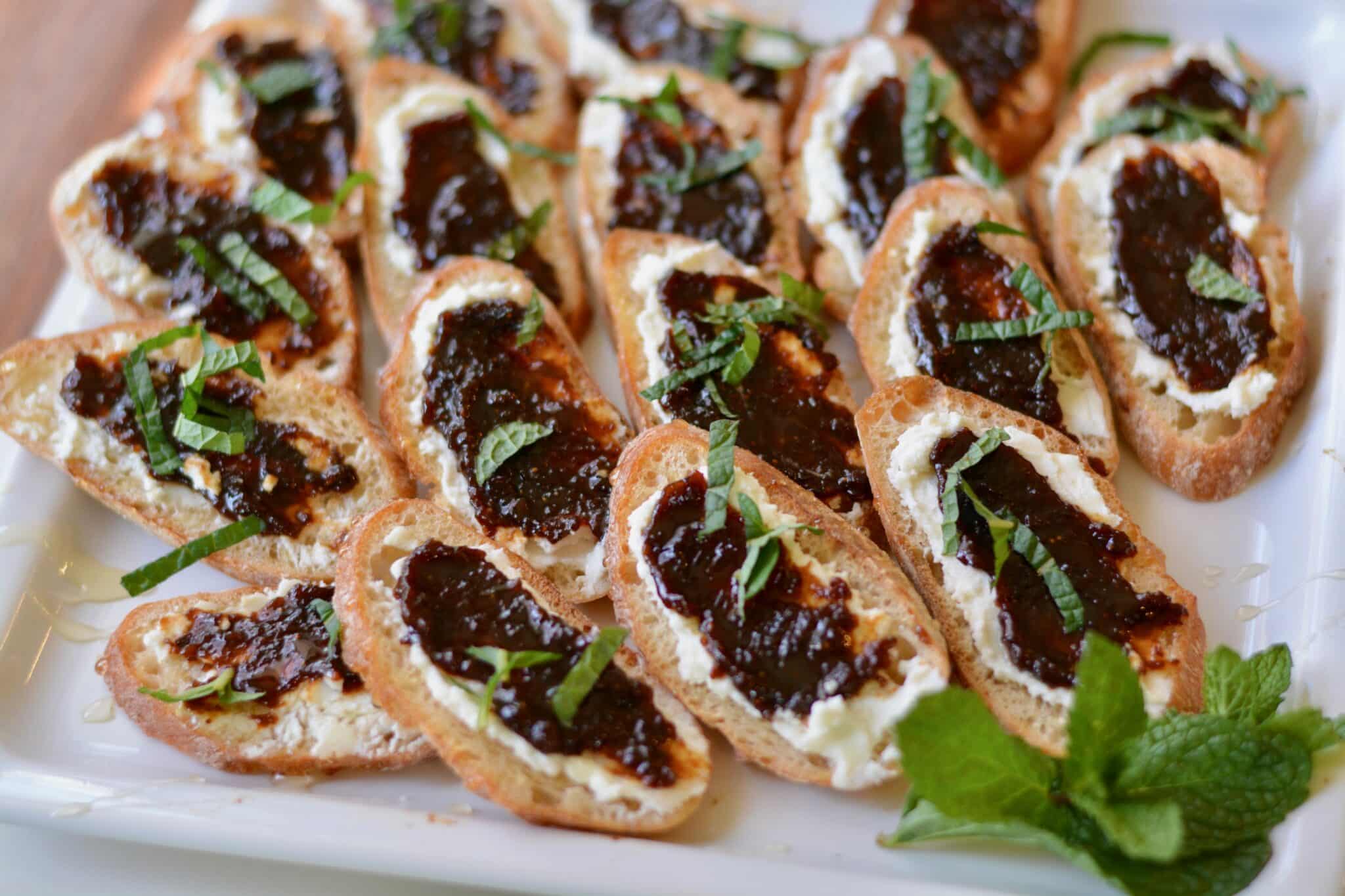 One of the most popular items on a cheese plate is goat cheese. Goat cheese has a tangy and creamy flavor that can be enjoyed by itself or paired with other flavors.
Fig jam is a great complement to goat cheese because it has a sweet and slightly tart flavor. Crostini are small pieces of toast that are perfect for holding either goat cheese or fig jam.
By combining these three ingredients, you can create an easy and delicious appetizer or snack.
12. Radishes and Butter Crostini Appetizer
The radishes and butter crostini appetizer is a simple and easy appetizer that can be made in minutes. Thinly sliced radishes are topped with a dollop of butter and then placed on top of a slice of baguette.
The crostini can then be baked in the oven or toasted in a skillet until the bread is crispy and the radish is slightly softened. This appetizer is best served warm and can be enjoyed as is or with a sprinkle of salt and pepper.
13. Caprese Salad Skewers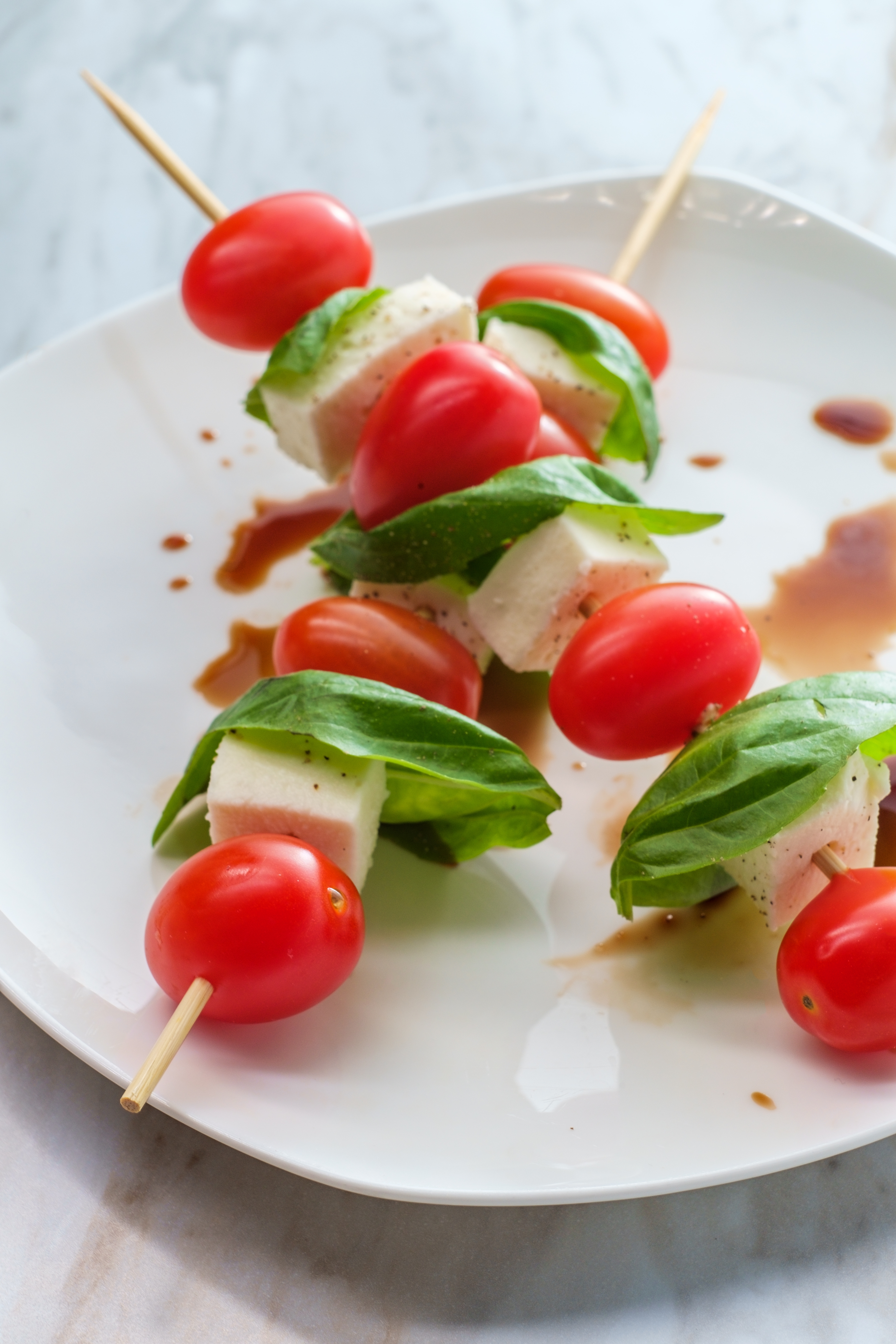 Caprese salad skewers are a fun and easy way to get your daily dose of vegetables. The skewers are made up of cherry tomatoes, fresh mozzarella balls, and basil leaves. The flavors in the salad are simple but delicious and work well together.
Caprese salad skewers can be eaten as a snack or a light meal. They are also perfect for parties or potlucks.
14. Vegetarian Sushi Cups
Vegetarian sushi cups are a fun, new way to enjoy your favorite sushi rolls. They are made by wrapping sushi rice and your favorite fillings in seaweed sheets, then forming the wraps into small cups.
The seaweed cups are then lightly fried until crispy, creating a delicious, vegetarian-friendly alternative to traditional sushi rolls.
Vegetarian sushi cups can be filled with anything from avocado and cucumber to crab and shrimp, so there is something for everyone.
They are a great way to get your daily dose of seafood if you are a vegetarian or simply want a lighter option than traditional sushi rolls.
15. BLT Bites
BLT Bites are a popular appetizer that can be found at many restaurants. The dish consists of bacon, lettuce, and tomato slices that are all bite-sized.
BLT Bites are often served with a dipping sauce, such as ranch dressing or blue cheese dressing.
Some people like to make BLT Bites at home by using a muffin tin. They will place a slice of bacon in the bottom of each muffin cup, then add a piece of lettuce and a slice of tomato.
They will then bake the cups for about 15 minutes or until the bacon is crispy.
16. Grilled Cheese Appetizers
Grilled cheese appetizers are the perfect finger food for your next party! Made with simple ingredients like cheese and bread, they can be easily customized to suit any taste.
For a sophisticated twist, try using a variety of different cheeses or adding some freshly chopped herbs.
Or, for a fun and festive look, cut the sandwiches into shapes using a cookie cutter. Whatever way you choose to serve them, grilled cheese appetizers are sure to be a hit with your guests!